12V Battery 2 Pack for Drive Medical Scooter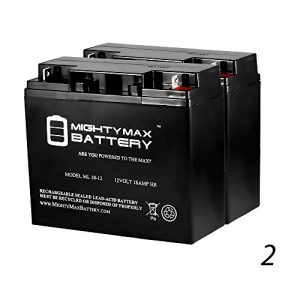 Mighty Max 12V 18AH Battery for Drive Medical Scooter – 2 Pack
Quantity: 2 Batteries
Delivering power when you need it, the Mighty Max ML18-12 12Volt 18AH uses a state of the art, heavy-duty, calcium-alloy grid that provides exceptional performance and service life in both float and cyclic applications.
The ML18-12 is an Absorbent Glass Mat technology with a valve regulated design, that can be used in enclosed and indoor environments without leaking or maintenance, providing a superior performance.
Specifications:
Voltage: 12 Volt
Amperage: 18 AH
Chemistry: SLA, AGM
Terminal: Nut and Bolt (NB)
Quantity: 2 Batteries
Battery Dimensions:
7.13 in x 3.01 in x 6.57 in
Weight: 11.90 Lbs
Warranty
1 Year
Genuine Mighty Max battery Product
ML18-12 SLA is a 12V 18AH Sealed Lead Acid (SLA) rechargeable maintenance free battery. This is the pack of 2 batteries, and check below for other battery packs.
2 Pack of the state of the art Mighty Max ML18-12 12Volt 18AH is a heavy-duty battery for Drive Medical Mobility Scooters. Great Price. Fast delivery.