Osprey Heavy Duty Mobility Scooter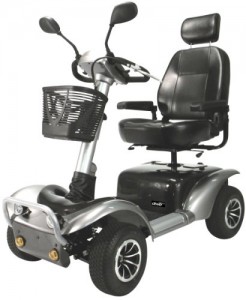 ---
Get The Best Deal
See Special Price
$5,398.00
---
The Osprey Outdoor Heavy Duty Mobility Scooter is a high-performance personal mobility aid designed for outdoor travel and long range outings. Featuring an unbeatable 38 mile range, and up to 9 MPH max speed, this heavy duty scooter provides overweight individuals the ability to enjoy a more independent and healthy lifestyle without concern.
Created to provide transportation and support for anyone with mobility limitations, the Osprey Large Mobility Scooter delivers top of the line luxury with unparalleled performance. The comfortable and fully-adjustable fold-down Captain's Seat features deep-contoured cushions, a reclining seat back and padded flip-up armrests for easy transfers. An adjustable angle delta tiller provides excellent user-controlled comfort, and the ergonomic thumb controls are intuitive and easy to use.
Complete with headlights and turn signals, an extra-loud horn, dual rear-view mirrors, front tiller basket and a comfort headrest, the Osprey bridges the gap between power and luxury better than any other travel scooter on the market. Combining convenience and reliability into a rugged and durable package, the Osprey is ideal for anyone looking for more out of their mobility scooter, buy yours today from Mobility Scooters Express.
Features
Rugged and durable outdoor performance frame
Fully adjustable swivel base captain's seat with reclining back
Combination electromagnetic and hand-operated drum brakes
Ergonomic, angle adjustable delta tiller for unbeatable control
Stylish chassis houses powerful 3700 rpm motor
500 lb. maximum capacity
13″ inflated outdoor tread tires provide traction on uneven surfaces
Dual rear anti-tippers for additional operating safety
Front carry basket for convenience
Includes headlight, horn, turn signals and dual rear view mirrors
Specifications:
Max Speed: 9 MPH
Maximum Range: 38 miles
Maximum Weight Capacity: 500 lbs
Turning Radius: 73″
Scooter Wheelbase: 54″ L x 29″ W
Seat Dimensions: 27″- 30″ Seat Height (adjustable), 20″ or 22″ Width (optional), 19″ Depth
Motor: 24V x 920W x 3700 rpm
Batteries: Two 12V x 75AH Group 24 (Charger – 5 Amp, offboard)
Brakes: Dual system- electromagnetic and drum
Wheels: 13″ x 5″ pneumatic