Spitfire EX 1420s Travel 4-Wheel Scooter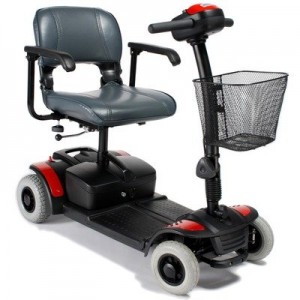 The Spitfire EX 1420s scooter is a good value lightweight four wheel scooter with a maximum speed of 5 mph and an adjustable angle tiller with fingertip throttle control as well as anti-tip wheels for greater safety.
It feature a comfortable, padded swivel seat with adjustable, padded armrests and an angle-adjustable delta tiller for your driving comfort. The Spitfire EX features a quick-disconnect system that allows the scooter to be disassembled easily and without tools for transport. Safety features include anti-tip wheels, and foam filled flat free tires. The backlit battery gauge is easy to read, and the bright LED headlamp lights your way safely for travel after dark.
It disassembles easily (without tools) into 5 pieces, with the heaviest part weighing in at just 28 lbs. Always keeping the user's comfort in mind, the scooter features a 17″ wide swivel seat with fold-down, padded backrest and flip-up armrests which are both width and angle adjustable.
The Spitfire EX 4 wheel scooter offers the extra-stable ride of a 4 wheeler, and the extended wheelbase and 42 inch length make it comfortable for taller riders. The standard 21 AH battery pack gives it one of the longer driving ranges among scooters in its class. Charge the batteries from the tiller-mounted charging port, or through the second charging port on the battery box. The EX 1420s can also be upgraded with 21AH batteries to increase the scooter's range and the life of each battery charge, making this a great option for people on the go.
The Spitfire EX 1420s scooter features interchangeable color panels (metallic red, blue and silver), allowing you to change the color of your scooter to fit your mood or your wardrobe. The easy-to-change color panels let you convert your scooter to the color of your choice.
Features:
Flip-up armrests with adjustable width and angle
Weight capacity of 300 lbs
9-mile maximum range
Adjustable speed up to a maximum of 5 mph
Adjustable angle tiller with fingertip throttle control
Disassembles without tools into 5 pieces, the heaviest only 28 pounds
Includes three sets of interchangeable body panels in red, blue and silver
Quick connect battery pack
Anti-tip wheels for greater safety
Comfortable, 17″ wide swivel seat with fold-down, padded backrest
Plastic front basket with removable liner bag
Flat-free, non-marking tires
Batteries Included