Pride Wrangler – 4 Wheel PMV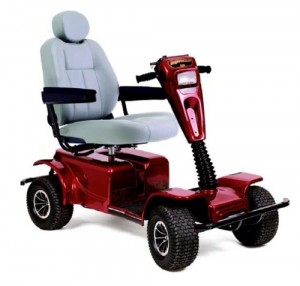 The Wrangler is known as a Personal Mobility Vehicle, or PMV. It is designed to be used when you don't know what's ahead of you. Will you be playing golf today? Will you be taking a relaxing ride through the woods? Will you be travelling over hills on the way to visit friends? If you like to play it by ear, then the Wrangler will make sure that getting there is never an obstacle.
To meet these goals the Wrangler has been outfitted with two Group 27 batteries and a ultra powerful 200 amp Curtis PMV Controller to provide optimal torque and power. Independent gear motors and all terrain tires give you the ability to move over nearly any surface. And the Wrangler will get your there quickly with a top speed of 10 mph. The Wrangler is a complete package. Once you have one, you will wonder how you ever did without.
Features
Power- Dual Motors for maximum traction
Fast variable speed up to 10 MPH
Strong 400 lb. weight capacity
Quiet Motor
Rugged 13″ tires for stability and outdoor performance
Features a gray vinyl high back seat and front basket
Rear suspension and Rear Wheel Drive with Posi-traction.
Front Basket (included)