Folding Strong Carrier and Loading Ramp for Mobility Scooters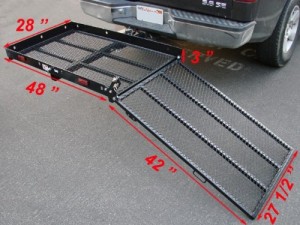 This is an all in one platform and ramp, which just slides into the hitch on the back of your car. This carrier is designed to allow easy loading and transporting of your wheelchair or scooter. The carrier features an integrated ramp which folds up and out into 3 different positions.
The first position keeps the ramp folded flat to the carrier surface and held down with a spring pull pin. The folded flat position is to keep the ramp self stored and secured when the carrier is folded up. The second ramp position allows the ramp to stand up straight when a mobility device is on the carrier. The ramp is held vertically in place with a spring pull pin. The last position is the ramp unfolded. This position allows for scooters or power wheelchairs to be pushed or driven up the ramp.
Weight Capacity: 400 lbs