Mobility Scooter Carrier Rack with Ramp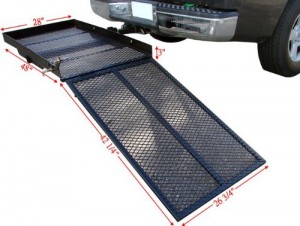 Heavy duty steel construction; Durable black powder coated finish; Tie down straps can be hooked onto any of the tie down holes featured on the ramp sides.
Platform dimension : 28 X 48 inch; Total length of ramp when expended is 42 1/4 inch
Total weight of carrier 75 Lbs; Weight of ramp (gate) 16 lbs. .easy to lift;
Weight Capacity of Ramp: Up to 400 lbs.
Has a 3 inch safety rail; Fits all 2″ Receiver, hitch class III or IV; Folding ramp can also be locked flat when not in use.
Heavy duty folding hitch makes the carrier rigid and the folding ramp is easily locked upright with double heavy duty internal spring loaded pull locks.