Afikim Afiscooter S 4-Wheel Scooter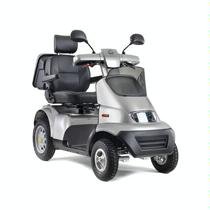 Formerly known as the Breeze S The Afiscooter S 4-Wheel from Afikim is a versatile personal mobility vehicle. It can be used on smooth paths and uneven ones as well because of its stable four-wheel design and high ground clearance. It also has full front and rear suspension, shock absorbers and energy absorbing bumpers.
The great standard features of the Afikim Afiscooter S 4-Wheel will keep you comfortable all day long, what makes this different the Afikim is a very popular and well-known scooter company throughout Europe and Australia. While this may not matter to you, it is important to note that European standards are higher than American ones in regards to safety features. Because of these higher standards the Afikim Afiscoote (formerly known as Afikim Breeze) S 4-Wheel has a full LED lighting package that dims at standstill to conserve energy and the control panel display is truly impressive, which is fully back lit and electronic displaying your speed and miles travelled.
Another great safety feature is the panic sensor. If you over-squeeze the accelerator the scooter will shut off. You then need to turn it back on to reset it. We like the Afikim Afiscooter 4-Wheel because of its standard safety and performance features. This scooter has a 30 mile range so it is great for all day use. It also has a top speed of 9.3 MPH, so if you want a speedier scooter, this could be the one for you. The Afikim Afiscooter 4-Wheel is not for use inside your home and because of its large size it cannot fit on any vehicle lift.
This scooter is more of a personal mobility vehicle and is perfect if you live in a smaller town or retirement community. It ships via a freight company and will arrive on a pallet, but don't worry, it is so easy to remove from the box. Just cut off the shrink wrap and straps and put the seat on the scooter and it is ready to go. Batteries are already installed and charged! Fully adjustable 18″ wide seat backrest headrest and armrests