Buzzaround Lite 3 Wheel GB106 Scooter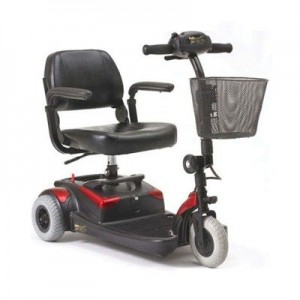 The Buzzaround Lite 3 wheel Mobility Scooter is a fabulous design for those needing a Disability Scooter.
GB106+ Seat Size: 15″ W x 14″ D Features: -Weight Capacity: 250 lbs.-Auto grade cut pile carpet.-Tiller mounted basket.-Tires: Foam-filled.-Front tire: 8".-Rear tire: 8".-Max speed: 4 mph.-Ground clearance: 2".-Battery range using 2-12Ah batteries, at maximum weight (250 lbs.): 8 miles.-Turning radius: 31".-3 point turn: 39".-90 degree corridor turn: 28".-Seat weight with arms: 21 lbs.-Freewheel mode: Yes.-Electronic speed control: Yes.-Brakes: Electromechanical.-Charger: Off board. Includes: Interchangeable color panels for Free!
Specifications: -Buzz Lite 3 Wheel Scooters.-Battery pack weight 2 x 12 Amp hour batteries: 21 lbs.-Rear-wheel drive: sealed transaxle motor 24 VDC.-Controller: 45 amp / programmable. Assembly Instructions: -Exclusive interlocking teeth for fully connector less assembly or disassembly. Dimensions: -Overall Dimensions: 21.25" W x 36.5" D.-Front half weight: 32 lbs.-Rear half weight: 24 lbs.
Warranty: -Warranty frame: Limited lifetime.-Warranty electronics: 2 years.-Warranty drive train: 2 years.
Includes: Interchangeable color panels for Free!