Pride Mobility Go-Go Sport S74 Electric Travel Scooter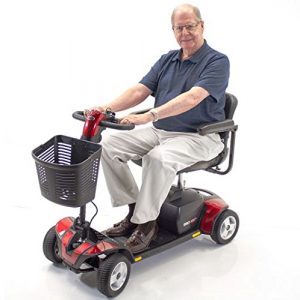 The Pride Mobility Go-Go Sport 4-wheel heavy duty travel scooter model S74 delivers high performance operation and has easy disassembly for convenience on-the-go. With a 325 lbs. weight capacity, charger port in tiller, and standard front LED lighting, the S74 Go-Go Sport scooter is feature rich and travel ready.
Features: Feather-touch disassembly permits simple frame separation with only one hand Includes 2 sets of easily changeable colored panels in Red and Blue. A front frame-mounted seat post offers maximum stability. An all-new frame design easily disassembles into 5 super lightweight pieces for convenient transport and storage. Also offered is a basket for additional storage. Convenient off-board dual voltage charger can charge battery pack on-board or off-board. Fast delivery on this heavy duty 4 wheel Pride scooter.